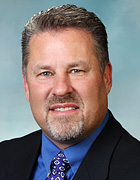 Dr. Holcomb joined Sunflower Neonatology in January of 2006. He attended medical school at Georgetown University School of Medicine in Washington, D.C. and then completed his pediatric residency at Wilford Hall U.S.A.F. Medical Center. His Neonatology fellowship was at the University of Colorado Health Sciences Center after which he became a staff neonatologist at Landstuhl Regional Medical Center in Landstuhl, Germany. While in Europe, Dr Holcomb gained considerable experience in transport medicine conducting multiple international and trans-Atlantic missions moving critically ill neonates as well as pediatric patients. After his tour of duty in Germany, Dr. Holcomb was stationed at Keesler Medical Center, Biloxi, MS, where he was Director of Neonatal Services and Director of the Critical Care Air Transport Teams, the USAF's second largest contingency of adult/pediatric/neonatal transport teams. After almost 18 years of service in the USAF, Dr. Holcomb joined Sunflower Neonatology in the winter of 2006. This move was earlier than planned due to the unexpected evacuation from Biloxi, MS, as a result of Hurricane Katrina.
A major interest of Dr Holcomb's is the transport of critically ill newborns, having personally completed over 120 national and international critical care transports. Instrumental in its formation, he is the Medical Director of HCA's Midwest Division Neonatal Transport Service which began operation September 1, 2007. The team provides ground and helicopter transport. Dr Holcomb is the Medical Director of the HCA Maternal Transport beginning in 2018. Dr. Holcomb is Board Certified in Neonatal-Perinatal Medicine.
Dr. Holcomb resides in Stilwell, KS with his wife, three children, 4 horses, 4 dogs and a plethora of other animals.