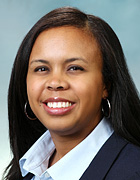 Dr. Tiffany Simpson arrived at Sunflower Neonatology in March 2009. She received the Doctor of Medicine from the University of Missouri in Kansas City. After her training in Kansas City, Dr. Simpson completed a residency in Pediatrics at the State University of New York in Brooklyn, New York.
Dr. Simpson returned to the Midwest for a Fellowship in Neonatal-Perinatal Medicine from St. Louis Children's Hospital at Washington University School of Medicine in St. Louis, Missouri. Dr. Simpson assumed the role of Medical Director of the Research Medical Center NICU in 2017 and added the Medical Director of Centerpoint Medical Center NICU in 2018. Dr. Simpson is Board Certified in Pediatrics and Neonatology.
Dr. Simpson resides in Overland Park, Kansas with her husband and three lovely daughters.