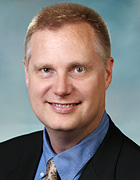 Dr. Lancaster, a native of Missouri, received his Doctor of Medicine from the University of Chicago. His residency in pediatrics and his fellowship in Neonatal-Perinatal Medicine were conducted at St. Louis Children's Hospital at Washington University in St. Louis, MO. Dr. Lancaster is board-certified in pediatrics and neonatology.
Dr. Lancaster joined the practice in the summer of 2008 and was named Medical Director at Research Medical Center the following year. At the start of 2019, Dr. Lancaster assumed the role of Medical Director of the Overland Park Regional NICU. He continues his interest in neonatal neurocritical care, including the benefits of whole body cooling in babies with hypoxic-ischemic encephalopathy.
Dr. Lancaster lives in Overland Park, KS with his wife and four active children, two sons and two daughters.