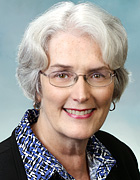 Dr. Weatherstone attended medical school at the University of Kansas School of Medicine and completed her pediatric residency at Medical College of Virginia in Richmond. Upon completing her fellowship in neonatal-perinatal medicine at Rainbow Babies and Children's Hospital of Case Western Reserve University in Cleveland, Dr. Weatherstone began her career as a neonatologist at the University of Kansas Medical Center. Dr. Weatherstone is board certified in Pediatrics and Neonatology.
In addition to clinical responsibilities, she was active as an associate professor involved with teaching medical students and residents. She conducted both clinical and bench research, including studying topical anesthetic for neonatal circumcision, and the immune activity of cord blood monocytes in preterm and term gestations. She furthered the study of the interactions of pain and the immune system during a six month sabbatical at the Great Ormond Street Children's Hospital in London where Dr. Linda Franck was her mentor.
Dr. Weatherstone was awarded tenure and served as the Chief of the Division of Neonatology at the University of Kansas School of Medicine from 1996 to 2004. She was a member of the 1999-2000 class of the Executive Leadership in Academic Medicine (ELAM) program, formerly at Hahnemann Medical College, now Drexel University College of Medicine.
Dr. Weatherstone was named a Top Doc by 435 Magazine (as voted by their peers) in the January 2013 issue. Dr. Weatherstone was also named as a Super Doctor by KC Magazine in 2012 and 2013.
In July 2004, Dr. Weatherstone established Sunflower Neonatology Associates, a practice which now includes nine full-time board certified neonatologists. In 2019, Sunflower assumed employment and management of the Neonatal Nurse Practitioners who serve in all the hospitals.
Dr. Weatherstone resides in Overland Park with her husband and has two adult daughters. She has lived and worked in the Kansas City area since 1988.