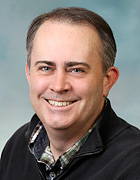 Dr. Stapley completed his medical school training at the University of Health Sciences, College of Osteopathic Medicine. Kansas City was fortunate to retain his talents in the area as he completed his residency in Pediatrics at the Kansas University Medical Center and a fellowship in Neonatology at Kansas City's own Children's Mercy Hospital.
Sunflower Neonatology invited Dr. Stapley to join the practice in the summer of 2007 after his fellowship and received his board certification in Neonatal-Perinatal Medicine shortly thereafter. In 2009, Dr. Stapley accepted a position as Medical Director at Menorah Medical Center, a position he retains to this day.
Dr. Stapley lives in Overland Park, KS with his lovely wife and three delightful daughters.