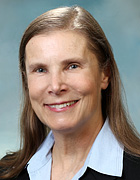 Dr. Schooley attended the University of California San Diego Medical School after which she completed her residency in pediatrics followed by a fellowship in Neonatal-Perinatal Medicine at Oral Roberts University. Dr. Schooley is board certified in both Pediatrics and Neonatal-Perinatal Medicine.
Dr. Schooley gained extensive experience as a neonatologist in a variety of neonatal intensive care units (NICUs) in the western United States until the Midwest captured her talents. Dr. Schooley served as the Medical Director of the NICU at Via Christi Medical Center in Wichita, KS before joining Sunflower Neonatology in the fall of 2005. While at Via Christi, she also served as Medical Director for the start up of land and air-based transport services from rural hospitals.
Dr. Schooley serves as Medical Director of the Overland Park Progressive Care Nursery and Follow-up Clinic, as well as the primary liaison to the nursery at Olathe Medical Center
Dr. Schooley continues to be very involved in educational programs, evidenced by her continued faculty appointment at Wichita State University Schools of Medicine and Nursing.
Dr. Schooley is married and has three sons. Outside of the clinical setting, you will find her enjoying bicycling, swimming or traveling.